You can arrange everything beautifully and comfortably and practically on your garden in the UK. You can even afford a bar counter. This is a great idea for everyone, especially if you like to have parties.
Bar on your terrace
The bar counter on the terrace looks great. Create a comfortable corner to meet guests and evening gatherings. You can make a bar counter from pallets. Hang flashlights on top.
The terrace with a bar counter will become a favorite place to relax. You should immediately provide some shed in case of rain. You can attach a roll-up film that will be fixed at the bottom from outside. Thus, an accidental thunderstorm will not disturb your privacy and you will not have to urgently move into the house.
Unusual gazebo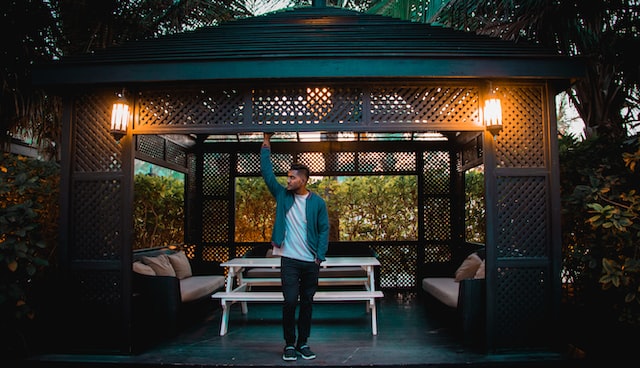 People come up with many ideas to improve the comfort of outdoor recreation. Now you will not surprise anyone with a classic structure. The original idea is a gazebo with a bar counter, which will allow you to take a fresh look at the usual vacation in the country. There are absolutely different ideas, ranging from classic tents to elite structures with a professional approach.
In most cases, the bar will play its role regardless of the class of construction. Even if the construction is not impressive, a cheerful team of people will easily set the right mood, and the idea of a bar will be a pleasant addition.
When making a decision to make a garden bar, immediately decide whether you are ready to allocate part of the space inside the gazebo and in your garden, which will not be used by you for the most part.
Garden bar with fireplace
There are premium class gazebos. These constructions can serve as a great idea that can be implemented on a smaller scale.
Expensive and elite gazebos are very often equipped with brick fireplaces, which are installed only for decoration. Darbecues, tandoors or stove complexes outside the recreation area are used for frying meat on coals.
Tent with a bar counter
A very popular gazebo is a structure consisting of a tent with dimensions of 3 by 3 meters (height is also about 3 meters), an anti-mosquito screen and a bar counter. This is one of the cheapest designs, which is equipped with a bar counter for a comfortable stay.
As it turns out, the designers have already responded to the request of consumers and offer several options for a bar in the garden. You are free in your choice.